Japan is an archipelago of 6,852 islands featuring an intriguing blend of centuries-old history and customs alongside comfortable modern amenities. Visitors to Japan will find cutting-edge accommodations, shopping, and tourist destinations, as well as the chance to step back in time and experience the traditions of centuries past.

The center of Japan is located at 36.20 degrees North latitude and 138.25 degrees East longitude.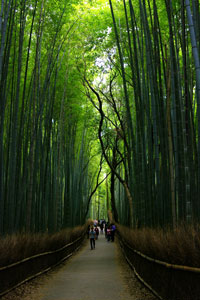 The city of Kyoto was once home to the imperial court, and offers a glimpse of eleven centuries of Japanese history. Stroll past canals through exquisite gardens and discover over 2,000 temples and shrines hidden within the landscape. View old Kyoto from the wooden platform of the Kiyomizu-dera temple built into a steep hillside. Peruse handcrafted woodblock prints, silk and textiles, dolls, and paper goods offered by quiet backstreet workshops. Annual matsuri, or festivals, feature parades of imperial costumes from 8th through 19th century dynasties. The Aoi festival is held on May 15th and believed to be the world's oldest surviving festival. Kyoto can be reached in 2.5 hours by bullet train from Tokyo.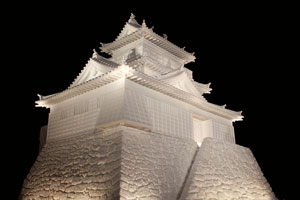 The unique artistic talent showcased at the Sapporo Snow Festival is made possible by 38,000 tons of snow brought in from nearby mountains. View spectacular ice palaces and hundreds of enormous snow and ice sculptures depicting everything from Minnie Mouse to Michelangelo's Pieta. The Sapporo Snow Festival caught on in 1972 after Sapporo was chosen to host the Winter Olympics; it can be viewed for one week only in early February. Sapporo is located 731 miles northeast of Tokyo, and can be easily reached by daily flights and overnight trains.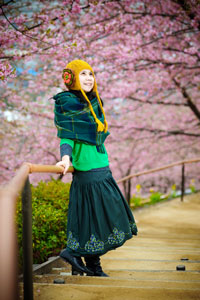 Hanami, or cherry blossom viewing, is a sight to experience in April. The snowflake-sized pink and white petals fluttering to the ground can be viewed best from Yoshino Mountain in the Yoshino-Kumano National Park. Stroll along beautiful pathways and visit the shops and teahouses of Yoshino for an authentic Japanese experience. Hanakueshiki is the annual cherry-blossom festival held in Yoshino on April 11-12, but peak viewing may extend for a few weeks beyond. Yoshino-Kumano National Park is 21 miles south of Nara and 42 miles south of Kyoto.
Japan is a unique and paradoxical blending of the old and the new. From the hustle and bustle of modern cities to the peaceful quiet of quaint rural villages and historic temples, Japan holds something to explore for every type of traveler.
---
Copyright © 2010-2023 Map-Of-Japan.org. All rights reserved.

Japan Address Locator Map